EnterpriseStrategyWare (ESWare) - Balanced Scorecard Product is an innovative approach of aligning business activities to the strategy and to scrutinize performance of strategic goals, over a period of time empirically.

Balanced Scorecard is conceptualized by Harvard Business School faculty David Norton and Robert Kaplan, our product EnterpriseStrategyWare translates mission and strategy into objectives and measures that are monitored from four different Perspectives: financial, customer, internal business processes and learning & growth.

Sarbanes Oxley Act requires company's annual reports to contain an internal control report, stating the responsibilities of the company to maintain adequate internal controls for financial reporting and assessment of controls. ESWare enables the Corporate to monitor the internal business processes, thereby ensuring adequate controls over the functioning and financial aspects of the company.

EnterpriseStrategyWare-Balanced scorecard is a Strategy Management tool as well as Business Activity Management (BAM) tool that enables the corporate to improve its performance in all the critical areas. EnterpriseStrategyWare enables you to track strategy execution by monitoring specific strategic objectives and measures that need to be achieved for realizing the overall strategic goals based on the Perspective. This facilitates development and deployment of an action-oriented framework for managing your strategy execution.

EnterpriseStrategyWare facilitates generation of Cause and Effect diagrams on the fly called "Strategy maps".Strategy map helps to narrow down the source of problems – by following the trail of the Strategy map. You can monitor Key Performance Indicators of your business and their effect on the Objectives.
Integration
EnterpriseStrategyWare is easily integrated with your existing applications to compare targeted performance with actual results for performance measurement and analysis. In addition, you may load historical information to get a more accurate assessment of the company's performance. The Data Wizard Manager provides the administrator with multiple options for loading and accessing data. The ongoing input of measurement data is either done by integrating to the ERP system, which automatically loads the performance information into the system, or by manual input to the system.
Dashboard
Hierarchical view of the Scorecard
Report, Analyze & Benchmark Performance
Basic View, Detail View, Tree View of Scorecard
Performance Graphs and Cause & Effect Analysis
Scenario Anlysis based on the Simulations
Role based User based Scorecards
PRODUCT REQUEST
You can make an online request to buy this product....
Make a Request
Building & Implementing ESWare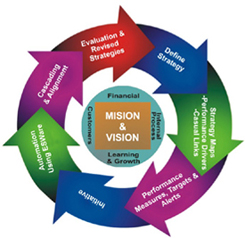 Dashboard Views - Some Samples